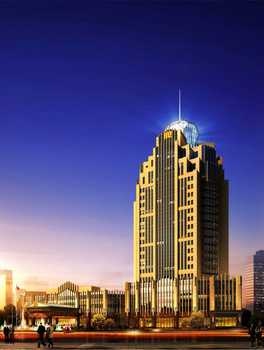 As the first luxury international hotel in Dezhou, Dezhou Regal Kangbo Hotel, opened for business on September 10, 2010, is invested by Bosideng International Holdings Limited, administrated by Regal Hotels International Limited.
The hotel locates at the core position of Dezhou Economic Development Zone, Shandong Province, near to Dezhou Municipal Government, administration center and the administrative committee of Dezhou Economic Development Zone; the hotel is located at the intersection of Dongfeng East Road and Kangbo Avenue, which is the necessary route of Beijing-Tianjin Expressway and has convenience in communication: the hotel is about 70-minute drive away from Jinan Yaoqiang Airport, over 10-minute drive away from Dezhou High-speed Railway Station and two kilometers from the exit of Beijing-Shanghai Expressway.
As a landmark building of Dezhou, the hotel is constituted by a 22-floor diamond-shaped tower building and a three-floor podium. 215 guestrooms and suites, as well as administration floors, are equipped in the hotel. Each guestroom is broad and bright with PDP television and high-speed internet online system that can receive international satellite programs and combines functions and comfort together to make you enjoy the living experience of "home away from home". No matter commercial business trips, vacation for leisure or family trips, Dezhou Regal Kangbo Hotel provides the most complete facilities and the most considerate services for all the customers.